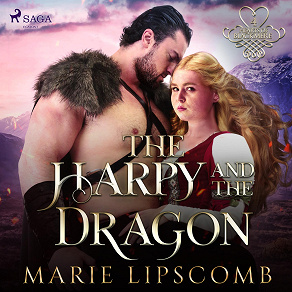 The Harpy and the Dragon
When feisty chambermaid, Annora, is imprisoned in a dungeon for striking her noble lord and master, she wastes no time in formulating a plan to escape. Unfortunately, that plan involves bringing her odious, yet undeniably handsome, fellow prisoner, Henry Percille, along with her.

Before long, desire overcomes irritation and the cracks in Henry's armour begin to expose the man he truly is. He may be a monster, but it would take nothing less to tempt her.

Henry Percille, the disgraced champion once known as the Dragon, has sat in the dungeons for ten years, haunted by his crimes. But when a foul-tempered chambermaid is thrown into the opposite cell, he finds not only freedom, but also his match.

Annora is grumpy, vicious, and undeniably beautiful - and he can't seem to convince himself to be rid of her no matter how hard he tries. When danger closes in, Henry becomes all that stands between her and the nobleman who wants them both dead. He must choose between vengeance or his glorious harpy- the woman he burns for.

***

The Harpy and the Dragon is the 4th book in the 'Hearts of Blackmere' series but can be read as a standalone. Part of Marie Lipscomb's 'Plus-sized Happily Ever Afters', 'The Harpy and the Dragon' is a slow-burn, enemies to lovers, steamy historical romance.

Marie Lipscomb is a romance author from the north of England. Now based in the USA where she lives with her husband, Marie first fell in love with storytelling when she studied creative writing at the University of Cumbria. Her stories are full of unlikely heroes, fantastical elements, and steamy romance. She is the author of the 'Hearts of Blackmere' and 'Vixens Rock' series.
Listen to sample
---