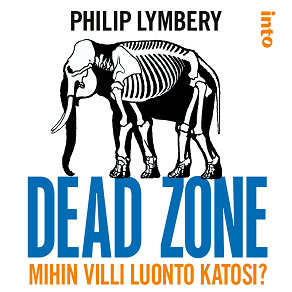 Dead zone
Ilmastonmuutos ja elinympäristöjen tuhoutuminen eivät ole ainoita syitä siihen, miksi niin monia eläinlajeja uhkaa sukupuutto. Halvan lihan kysynnällä on yhtä tuhoisa vaikutus. Dead Zone vie lukijan silmät avaavalle tutkimusmatkalle, jolla tutustutaan kymmeneen ikoniseen eläinlajiin ja selvitetään, millainen rooli tehomaataloudella on niiden ahdingossa.

Tehotuotantotilat ja viljanviljely valtavilla kemikaalien kyllästämillä pelloilla kaventavat villieläinten elintilaa.

Teos on herätys meille kaikille: se paljastaa tehomaataloutta pönkittävät myytit ja tarkastelee, miten voimme auttaa pelastamaan planeettamme paremman ruoan avulla.

Philip Lymbery on johtavan kansainvälisen tuotantoeläinten hyvinvointia ajavan Compassion in World Farming -järjestön (CIWF) toiminnanjohtaja ja vieraileva professori Winchesterin yliopistossa. Hänen ja Isabel Oakeshottin kirjoittama teos Farmageddon - Halvan lihan todellinen hinta (Into 2018) valittiin The Timesin Writers' Books of the Year -listalle vuonna 2014, ja Mail on Sunday on kutsunut teosta vakuuttavaksi "suunnanmuuttajaksi".

Lymberyllä on ollut tärkeä rooli monissa merkittävissä eläinsuojelu-uudistuksissa. Häntä pidetään yhtenä elintarvikealan vaikutusvaltaisimmista henkilöistä, ja hän on tehnyt CIWF:n johdossa yhteistyötä yli 800 elintarvikeyrityksen kanssa eri puolilla maailmaa, mikä on parantanut miljardien tuotantoeläinten asemaa joka vuosi.
Listen to sample
---