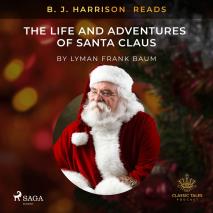 Isbn:
978-87-2657-467-8
Publisher:
Saga Egmont
Category:
6-9 years
Historic facsimile
Accessible since:
February 2021
Narrator:
B. J. Harrison
Length: 3 hours 10 minutes
---
B. J. Harrison Reads The Life and Adventures of Santa Claus
The Life and Adventures of Santa Claus reveals the story behind the man we all know. In this children's fantasy story, baby Claus is discovered in a forest by a supreme immortal and placed in the care of a lioness and later a wood nymph. Claus is kind towards children and spends his time making toys for them, but not everyone is pleased with his activities and will do all they can to make it stop. The story by L. Frank Baum, known to most as the author of 'The Wonderful Wizard of Oz,' has been turned into a graphic novel and the 1994 anime television mini-series Shounen Santa no daibôken.

Lyman Frank Baum (1856-1919), aka L. Frank Baum, was an American author, poet and scriptwriter. Primarily known for his children's books, he is most famous for the novel 'The Wonderful Wizard of Oz' and its sequels. His stories feature adventure and fantasy, and are a reinvention of familiar fairy tales. Baum's works have been featured on stage and films, most famously in the iconic Oscar-winning film adaptation The Wizard of Oz (1939), based on Baum's novel of the same name, starring Judy Garland.

B. J. Harrison started his Classic Tales Podcast back in 2007, wanting to breathe new life into classic stories. He masterfully plays with a wide array of voices and accents and has since then produced over 500 audiobooks. Now in collaboration with SAGA Egmont, his engaging narration of these famous classics is available to readers everywhere.
Listen to sample
---