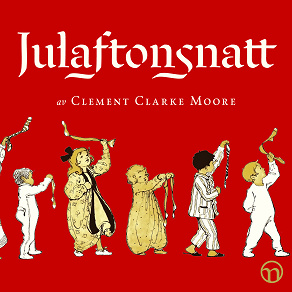 Isbn:
978-91-7893-974-9
Publisher:
Modernista
Category:
3-6 years
Children's books
Accessible since:
November 2020
Narrator:
Lo Tamborini
Length: 4 minutes
---
Julaftonsnatt
En av de stora julklassikerna i ny översättning!

Äntligen är det tyst i huset. Strumporna hänger på sin plats. Barnen sover, förväntansfulla inför morgondagen. Men vad är det för konstiga ljud som kommer från gården?
Julaftonsnatt [Twas the Night Before Christmas] publicerades första gången anonymt dagen före julafton 1823. Med tiden har den blivit en av de verkligt stora julklassikerna, en magisk saga för alla åldrar och den text som kanske mer än någon annan lagt grunden till vår föreställning om jultomten.
I ny svensk översättning av Thomas Sjösvärd.

CLEMENT CLARKE MOORE [1779–1863] var en amerikansk författare och professor i grekisk litteratur och bibelstudier. Hans mest kända verk är Twas the Night Before Christmas, som ursprungligen publicerades under titeln A Visit from St. Nicholas.

JESSIE WILLCOX SMITH [1863–1935] var en amerikansk illustratör som medverkade i otaliga böcker och tidningar. Hon utbildade sig hos Howard Pyle – illustratör och författare, bland annat till klassikern The Merry Adventures of Robin Hood – och tecknade regelbundet åt Ladies Home Journal.
Listen to sample
---