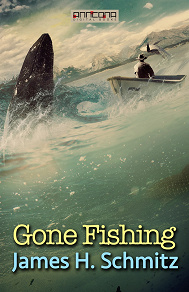 Gone Fishing
Gone Fishing is a science fiction novella by James H. Schmitz.

Financier, blackmailer/conman Barney Chard is sure he's got Dr. Oliver McAllen right where he wants him.

He knows McAllen's secret. He just needs to politely apply the right pressure. McAllen spends too much time fishing to be a threat.

There is no predictable correlation between intelligence and ethics, nor is ruthlessness necessarily an evil thing. And there is nothing like enforced, uninterrupted contemplation to learn to distinguish one from another...

Gone Fishing was first published in Analog Science Fact & Fiction May 1961. E-book: ePUB, 16.500 words, reading time approximately 1 hour, 20 min.

James Henry Schmitz (1911–1981) was an American science fiction writer. Schmitz is best known as a writer of "space opera", and for his strong female characters who did not conform to the "damsel in distress" stereotype typical of science fiction of the time.
---