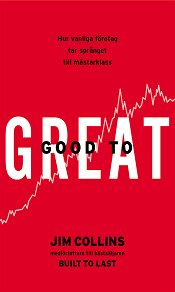 Isbn:
978-91-8938-878-9
Publisher:
Bookhouse Editions
Category:
Economics & Business
Accessible since:
March 2012
---
Good to Great - Hur vanliga företag tar språnget till mästarklass
Good to Great presenterar resultaten av ett femårigt forskningsprojekt. Jim Collins har identifierat samtliga börsnoterade amerikanska företag som uppfyllt två kriterier. Det första är att de under minst femton år varit ganska "vanliga" företag med börskurser som skvalpat runt index. Det andra är att de efter en brytningspunkt haft en kursutveckling, under minst femton år i rad, som varit minst tre gånger bättre än index. Collins fann elva företag som uppfyllde dessa kriterier.

Vad är det som skiljer dessa företag från andra? Hur tar man språnget från att vara ett bra företag till att bli ett exceptionellt företag? Det är den frågan Collins försöker besvara.

Boken gavs ut på svenska i november 2001 och har sålts i mer än 23 000 exemplar.
Read sample
(Download)
---